Professional Carpet Cleaning

Extreme Clean Carpet Care provides a Deep Steam Carpet Cleaning in every visit. Deep Steam Cleaning is a carpet-cleaning process that removes most of harmful dirt, dust, pet waste and allergens which may be deep down in your rugs and carpets, regular vacuum cleaners remove only a fraction of them.
Having your carpets professionally clean does not only protect the investment you have in your home, but parents of young children, pet owners and allergy sufferers may find our deep steam cleaning especially beneficial.  We use Green Certified Carpet Cleaning solutions.
Major carpet manufactures recommend Hot Water Extraction or "Steam Cleaning" as the only cleaning method classified as "deep cleaning"; all the others are considered "light surface cleaning" because they are not able to remove the soil that lays deep down in the pile leaving large amounts of cleaning solution and soil in the carpet fibers after cleaning.
Extreme Clean Carpet Care also offers your business a high quality commercial carpet cleaning.  When your clients and partners visit your business, you'll have a professional and pristine image.
Extreme Clean Carpet Care is certified by the Institute of Carpet Cleaning and Restoration IICRC.  Our carpet cleaning technicians are knowledgeable, courteous, and respectful of your property.  We will make sure that your carpets are thoroughly and safely clean.
Carpet Cleaning Benefits
Environmental studies indicate that indoor air quality can actually be up to 100 times worse than outdoor air quality. Breathing contaminated air can be especially harmful to babies, elders, and people with respiratory and allergy issues. When combined with regular vacuuming, professional steam cleaning can ensure that your home is free from air borne contaminants that can cause health problems for your family.
1. Visual Assessment – Our professional technicians will thoroughly inspect your carpets for any stains or areas of concern.
2. Preparation of Cleaning Areas – Protect corners and walls from damage from hoses. We'll move your furniture as stated below.
3. Pre-Vacuum – We use an industrial upright vacuum cleaner with a HEPA filtration system.
4. Pre-Treat Carpets – A high quality pre-spray will be applied directly onto your carpet using a sprayer. All our carpet cleaning products are non-toxic and wool safe approved.
5. Spot Treatment – Our experienced technician will then treat any spots and stains that require further attention using a wide range of methods and solutions.
6. Steam Extraction – All areas are thoroughly steam cleaned, leaving your carpets feeling soft, free of residue and ready for drying.
7. Green Guard Protection Treatment (recommended) – We will apply our Green Guard Protector to all cleaned areas to protect your fresh clean carpets from future stains.
8. Replace Furniture – Each piece of furniture will be returned to its original position. Foam blocks or tabs are placed under each leg to protect your furniture and carpet.
9. Final Inspection – When the carpet cleaning process is complete, we will inspect each area cleaned to ensure proper cleaning was performed
10. Customer Satisfaction – We are not happy unless you are happy! So we will ask you to walk through the cleaned areas to be sure ALL your cleaning needs were addressed.
We'll move your furniture!
As part of our Carpet Cleaning Service, we will move the following furniture:
Small sofas, small tables and chairs, lamps and other items that one technician can safely and comfortably move. We do not move bookcases, fish tanks, beds, display and china cabinets, entertainment units, electronic equipment, desks with computers or other fragile delicate items.
Please clear the floor of any small items like pot plants, books or toys before your technician arrives.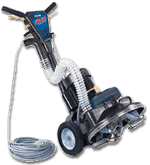 The Rotary-Steam RX-20 carpet cleaning unit is available from Extreme Clean. This process also uses hot water extraction, but the hot water is extracted more thoroughly than with standard methods, leaving your carpet almost dry to the touch. Our Rotary-Steam Cleaning system actually allows us to process more than 300 hundred cleaning passes per minute, making it perfect for cleaning heavily soiled or stained areas. This unique process not only produces superior results, but also boasts almost no drying time.
More Information: Rotary-Steam RX-20